As the first quarter of 2018 comes to a close, stock market volatility has come back into focus. There are many ways to quantify this, but one particular number of note is the number of days in which stocks move either up or down by at least 2% in a single trading day.
It certainly feels like stocks have been more volatile this year than in recent years, and that feeling plays out when you look at this measure of volatility. In 2017, there were zero occurrences of stocks moving more than 2% in a day. This year so far, there have been six of them (as of March 30). To put this in some historical context, since 1980 stocks have averaged 15 such occurrences a year. So while we've experienced more volatility so far in 2018, this year has been more consistent with history than in previous years. As you can see in the chart below, volatility tends to be clustered into several time periods. And, keep in mind that we really haven't seen much trading volatility since 2011.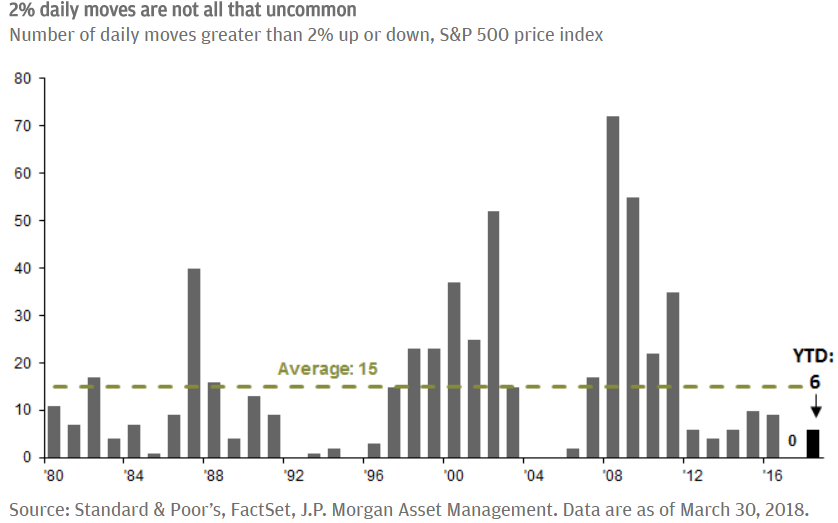 There are number of reasons why stocks have been more volatile this year:
Concerns about a trade war because of recent tariffs, the Federal Reserve raising interest rates, volatility from the White House and stock valuations all are reasons to give investors some pause. While volatility is most often associated with market downturns, investors rely on stock market volatility for the potential of higher long-term returns than you can expect from less volatile investments, like bonds and cash. Without the volatility, you generally don't get the long-term returns many investors count on to preserve their purchasing power (reduced over time by inflation).
We fully acknowledge that going through periods of volatility and market declines are not a fun experience. But we also understand the history of the markets and realize that stocks will frequently go through unpredictable and temporary downturns. Over the last 38 years, U.S. stocks have seen an average drop of about 14% per year, while still delivering positive returns in a majority of those years. The best move in these situations is not be too reactive and understand that financial planning involves a certain degree of uncertainty and periodic market declines. Looking past the "noise" of the market, underlying fundamental conditions remain positive—earnings growth looks solid, the labor market is strong, and taxes are low.
Ultimately, most investors will have funding goals that span years or even decades beyond 2018, so we recommend maintaining that long-term focus in order to give your retirement plan the best odds for success. We will continue to monitor the markets, the economy, and your portfolio to ensure that you stay on track to meet your long-term goals.
We encourage you to reach out to your advisor if you have any questions or concerns.