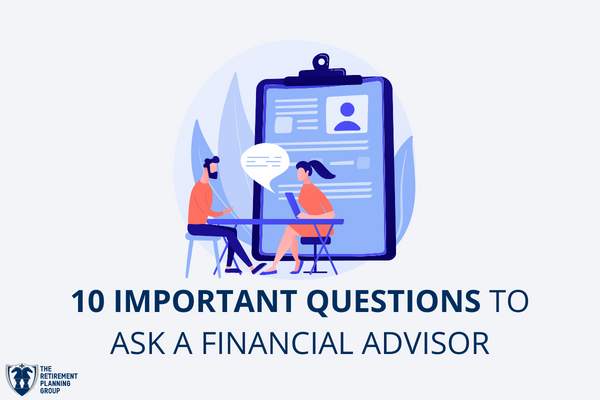 Are you contemplating getting a financial advisor? Before you take the plunge, it's important to ask the right questions to make sure you have the right advisor for your needs. In this blog post, you will learn the key questions to ask a financial advisor so you can get the most out of your relationship and ensure you're getting the financial advice you need. 
When considering a financial advisor, it's crucial to understand the distinction between fiduciaries and non-fiduciaries. Fiduciaries prioritize your best interests and recommend investments that are most suitable for your needs. On the other hand, non-fiduciaries, like broker-dealers, are only required to suggest products that are "suitable," even if they may not be the most cost-effective or optimal choices for you.
2. What are your qualifications?
When selecting a financial advisor, it's vital to assess their education and qualifications. While education alone isn't the sole determining factor, it offers valuable insights. For instance, CERTIFIED FINANCIAL PLANNER™ professionals undergo rigorous education requirements and demonstrate practical experience. In contrast, newly graduated advisors may lack real-world practice. Inquire about access to mentors or a larger team to ensure well-thought-out strategies. Understanding the initials behind financial professionals' names can be perplexing. Utilize the Financial Industry Regulatory Authority's database to decipher designations, including their education requirements, accrediting bodies, disciplinary actions, and professional status verification. By exploring education and designations, you can make an informed decision that aligns with your needs.
3. How do you stay current on new trends, regulations, and opportunities?
In the dynamic landscape of investing, staying on top of emerging trends is crucial in making informed decisions. When selecting a financial advisor, it's essential to inquire about their methods for staying informed about new opportunities like Crypto and Non-Fungible Tokens (NFTs). Equally important is understanding how they and their team keep up with evolving laws and regulations that impact investment and tax strategies. For instance, if there are changes in real estate investment laws leading to heightened profits upon sales, having an advisor well-versed in the implications for your financial plan can prove invaluable, potentially saving you significant resources and mitigating potential complications.
4. How are you compensated?
This is similar to the fiduciary question, as it can impact your advisor's ability to advise you and your family. We want to trust that people have our best interest in mind, but how can you trust this if you feel an advisor is being motivated by outside forces? In order to feel confident in your advisor's recommendations, make sure to understand how they are compensated. Having an advisor who receives a commission from their sales is not a bad thing, but make sure to understand this up front so you can ask questions and make wise decisions.
5. What types of investments do you use in your clients' portfolios?
When evaluating a financial advisor, it's crucial to assess how they tailor portfolios to suit your unique financial situation. By delving deeper into their approach, you can gain insights into their investment style and philosophy.
For example, you may want to inquire about their stance on market timing, whether they strategically buy and sell investments based on market fluctuations. Alternatively, they may emphasize a slow and steady approach, focusing on long-term wealth accumulation through consistent contributions and diversification. Some advisors may lean towards day trading or identifying quick-win opportunities for immediate returns.
As you consider these aspects, remember that the key question to ask revolves around the alignment of the advisor's investment style with your financial goals and expectations. Engaging in thoughtful conversations on this topic provides valuable insights into how their approach would impact your portfolio's growth and overall financial well-being.
6. Have you faced any disciplinary action?
This can be an uncomfortable but important question. For an advisor with no disciplinary action, this question is easy. For those with disciplinary actions, it can be difficult.
Mistakes and misunderstandings happen. Some people deserve a second chance. If your advisor has faced disciplinary action, you'll want to be comfortable with their history and how they are moving forward.
Visit the SEC website to get more information on the firm and planners. You can also review broker/dealer representative information by visiting BrokerCheck. These sites will show you the employment history and any industry violations. Take the time to review who is managing your money.
7. What services do you provide?
Before making a decision on a financial advisor, it's crucial to carefully consider your specific needs and preferences. Are your financial goals relatively straightforward, involving elements like an employer 401(k) and Social Security? Or do you have more complex requirements that necessitate comprehensive management, involving a team of professionals such as CPAs and attorneys? 
Financial advisors often offer a wide range of services, including: 
Retirement Strategies 
Trust and Estate Consideration 
Tax Mitigation Opportunities 
Education Savings
Insurance Protection
Cash Flow Strategies
Charitable Giving 
Business Succession Options
While some advisors specialize in serving high-net-worth individuals, others cater to a diverse clientele at various life stages, accommodating different needs and goals. It's important to assess whether they can meet your current and future requirements as your life and finances evolve. 
8. What type of support do you offer? (In person, virtual, phone)
Financial advisors provide different types of support to cater to their client's needs. In-person support allows for face-to-face meetings, enabling direct interaction, and immediate guidance. Virtual support offers the convenience of connecting with your advisor remotely, ensuring access to their knowledge from any location. Phone support is ideal for prompt responses and discussing specific situations. It is crucial to be aware of the available support options to ensure you receive the necessary assistance whenever you require it. 
9. What custodians do you use?
This may be less impactful for some, however knowing if you must move financial accounts or if your advisor is able to use your current custodians may impact your decision. You will also want to know if you decide to leave the advisor in the future, are you able to keep your accounts or will you need to close them and reopen them elsewhere? This could be similar to a 401(k) after you leave a job, it stays with your employer and to remove the money you must roll it over to a new account. Knowing how this works upfront can save you time and headaches later.
10. How might my taxes be impacted if I invest with you?
When you engage in a conversation with a financial advisor, it is crucial to inquire about the potential impact of their trading strategies on your taxes. Typically, retirement accounts like 401(k)s and IRAs do not trigger any tax activity until you withdraw the funds. However, if your advisor recommends investing in a separate account, such as a taxable or general account, any gains, sales, and dividends may be subject to annual taxation. This can result in a larger-than-expected tax bill, underscoring the importance of comprehending the tax implications associated with your advisor's strategies. A reputable financial advisor should possess knowledge of effective tax strategies and be capable of assisting you in maximizing tax savings. For instance, The Retirement Planning Group boasts a team of tax professionals who can provide valuable guidance to clients seeking to minimize their tax burdens. Seeking advice from your advisor regarding tax loss harvesting and other tax-saving techniques may reduce your tax liability.
Top 10 Questions to Ask Before you Hire a Financial Advisor
Feel confident in your decision to hire a financial advisor now that you have the right questions to ask. Beyond just rapid-fire asking these questions, really get to know your advisor. What are they like? Do they have the same personality as you and your spouse? Do you feel they are high pressure and like that or do you prefer someone more patient and who takes the time to really explain your options? Finding the right fit to help guide your wealth management planning makes a huge difference.
Ready to find the right fit? At The Retirement Planning Group, we built our firm to be the "easiest firm to work with on Earth". We have professionals in financial planning, wealth management, tax and accounting specialties, estate planning, and more. We built all of this to support our clients in every stage of their journey, and to provide comprehensive and thorough wealth management advice. Schedule your free, 10-minute guidance call to see if we are a fit for you!
Disclaimer: Information provided is for educational purposes only and does not constitute investment, legal or tax advice. All examples are hypothetical and for illustrative purposes only. Past performance of any market results is no assurance of future performance. The information contained herein has been obtained from sources deemed reliable but is not guaranteed. Please contact TRPG for more complete information based on your personal circumstances and to obtain personal individual investment advice.