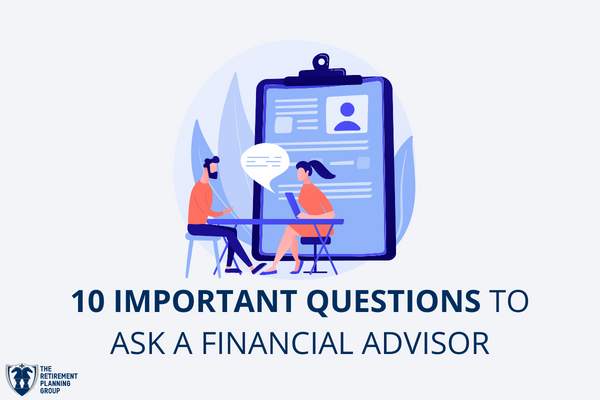 Considering hiring a financial advisor? Congratulations! This is a big step in your financial journey, and should not be taken lightly. Before you commit to one, you'll want to know the top 10 questions to ask a financial advisor. We compiled these top questions based on our and our clients' experience. 
Would you hire a doctor who didn't have to act in your best interest and instead just prescribed medications because they got a huge payback? The same is true for your financial advisor. When your financial advisor is a fiduciary, they have an obligation to act in your best financial interest. Some advisors can sell funds or options that are in their best interest, or that pay them the highest commissions (see more on how they are compensated).
One of the most critical questions to ask a financial advisor is if they are a fiduciary.
2. What are your qualifications?
While education alone should not be the deciding factor, it is important to understand what education and training your prospective advisor has.
For example, an advisor that is a CERTIFIED FINANCIAL PLANNER™ professional must complete rigorous education requirements and demonstrate hours of experience. A new financial advisor may simply have graduated college and passed an exam, with no practical or real-world experience. While a new advisor can be exceptional, you will want to know if they have a mentor or larger team available to consult and advise on your plan to ensure your wealth management strategies are well thought out.
For those with more complex financial advising needs, for example small business owners or those with large real estate investments, it may make sense to work with someone more credentialed and experienced with your specific needs and circumstances.
3. How do you stay current on new trends, regulations, and opportunities?
Can anyone say Crypto? How about NFTs? There are ever-changing trends in investing your hard-earned money, but are they right for you? One question to ask is how your advisor stays current on new trends and opportunities for investments.
Beyond the new and emerging options, you want to understand how your advisor and their team stay up-to-date on new laws and regulations that can impact your investment and tax strategies For example if real estate investment laws change and there are increased gains on potential sales, having an advisor who understands what this means for your overall financial plan can save you money, time, and a large headache.
4. How are you compensated?
This is similar to the fiduciary question, as it can impact your advisor's ability to advise you and your family. We want to trust that people have our best interest in mind, but how can you trust this if you feel an advisor is being motivated by outside forces? In order to feel confident in your advisor's recommendations, make sure to understand how they are compensated. Having an advisor who receives a commission from their sales is not a bad thing, but make sure to understand this up front so you can ask questions and make wise decisions.
5. What types of investments do you use in your clients' portfolios? (Investment Philosophy)
Your financial situation is unique, but does your portfolio need to be? Learn more about how your prospective advisor creates portfolios, what questions they ask, and what is their investment style or philosophy.
For example, does the advisor try to time the market? Are they slow and steady and do dollar cost averaging? What about day trading or quick-win opportunities? One of the key questions to ask a financial advisor is about their investment style and how that matches your financial goals and expectations.
6. Have you faced any disciplinary action?
This can be an uncomfortable but important question. For an advisor with no disciplinary action, this question is easy. For those with disciplinary actions, it can be difficult.
Mistakes and misunderstandings happen. Some people deserve a second chance. If your advisor has faced disciplinary action, you'll want to be comfortable with their history and how they are moving forward.
Visit the SEC website to get more information on the firm and planners. You can also review broker/dealer representative information by visiting BrokerCheck. These sites will show you the employment history and any industry violations. Take the time to review who is managing your money.
7. Do you have experts in different areas of financial planning to help me?
Being an expert in every area of personal finance is almost impossible. There is so much to know and so much nuance to creating custom, high-performing financial plans. Knowing the team that surrounds your advisor, their depth of experience and areas of expertise, can further build confidence that they are a solid choice for you and your financial goals.
A few areas to consider are estate planning, small business tax and accounting support, tax loss harvesting strategies, and overall wealth management and planning. Discuss with your potential advisor how they can manage and support your changing needs and circumstances.
8. What type of support do you offer? (In person, virtual, phone)
An advisor should fit your needs. Knowing if your advisor can support you over the phone, virtually, locally in the office or any other way imaginable will better paint the picture if you are a good fit together.
9. What custodians do you use?
This may be less impactful for some, however knowing if you must move financial accounts or if your advisor is able to use your current custodians may impact your decision. You will also want to know if you decide to leave the advisor in the future, are you able to keep your accounts or will you need to close them and reopen them elsewhere? This could be similar to a 401k after you leave a job, it stays with your employer and to remove the money you must roll it over to a new account. Knowing how this works upfront can save you time and headaches later.
10. How might my taxes be impacted if I invest with you?
A few questions to ask a financial advisor include how your taxes may be affected by their trading strategies. Saving money and investing in a retirement account like a 401k or IRA do not generate any tax activity until that money is withdrawn. If your financial advisor suggests a separate investment account, often called a taxable account or general account, any trades, sales, and dividends can be taxed yearly. This can lead to a substantial tax bill you may not have anticipated.
Speak with your financial advisor on potential tax implications and if they can provide guidance on tax loss harvesting and advice on how to save you money come tax time. Having an advisor who is knowledgeable on tax strategies, or has a team of tax professionals like The Retirement Planning Group does, can save you money.
Top 10 Questions to Ask Before you Hire a Financial Advisor
Feel confident in your decision to hire a financial advisor now that you have the right questions to ask. Beyond just rapid-fire asking these questions, really get to know your advisor. What are they like? Do they have the same personality as you and your spouse? Do you feel they are high pressure and like that or do you prefer someone more patient and who takes the time to really explain your options? Finding the right fit to help guide your wealth management planning makes a huge difference.
Ready to find the right fit? At The Retirement Planning Group, we built our firm to be the "easiest firm to work with on Earth". We have professionals in financial planning, wealth management, tax and accounting specialties, estate planning, and more. We built all of this to support our clients in every stage of their journey, and to provide comprehensive and thorough wealth management advice. Schedule your free, 10-minute guidance call to see if we are a fit for you!
Disclaimer: Information provided is for educational purposes only and does not constitute investment, legal or tax advice. All examples are hypothetical and for illustrative purposes only. Past performance of any market results is no assurance of future performance. The information contained herein has been obtained from sources deemed reliable but is not guaranteed. Please contact TRPG for more complete information based on your personal circumstances and to obtain personal individual investment advice.